Here you'll find our challenges for kids to try themselves, and some amazing activities to download and try any time.
In 2021, we'll be sharing a new challenge for girls to explore however they want every quarter. You don't have to do them in your unit meetings, but you might want to talk about how you are all getting on.
These challenges are not part of the Girlguiding programme, but they are inspired by our interest badges and we hope they inspire girls to try new things.
Stargazing story time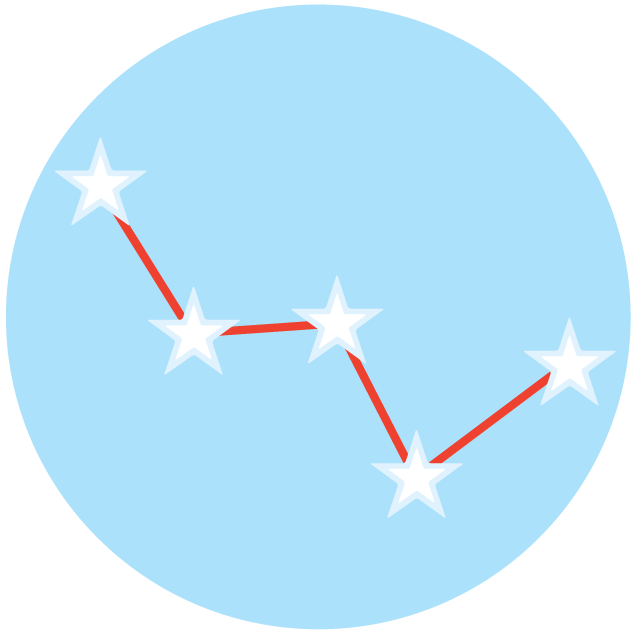 Look up to the sky! What do you see? Have you ever noticed that you see different things in the sky at different times of the day?
We challenge you to discover what you can see at night time from your home. Whether that's from your bedroom window or just outside your front door – it's time to look up and appreciate our night sky. Have you ever heard of the word stargazing? This is to look up to the sky and see the stars.
Each day, jot down or draw what you can see in the night sky. How many stars can you count? Are they in the same place as they were yesterday? You might see different things in the sky depending on where you live, and what the weather is that day.
At the end of the month, print out our fun activity sheet to bring the stars into your home. Ask an adult to help you cut out the holes and shine a light (you could use a torch) at the paper to see a constellation of stars appear on your wall. A constellation is a group of stars that appears to form a pattern or picture. You could even try making your own constellation activity sheet!
Hold your own evening of stargazing story fun for your household. Choose a story to read that's all about the night sky, or why not make up your own together about a journey through the stars?
Inspired to find out more about the night sky and space? We created this fun challenge with our friends at the Royal Astronomical Society. You can find lots of great things about stargazing with our extra information sheet, or about space and the night sky on their website.
Taken from Girlguiding Website: https://www.girlguiding.org.uk/what-we-do/adventures-at-home/for-ages-4-7/monthly-challenge-and-activities/